Perfactory Mini Multi Lens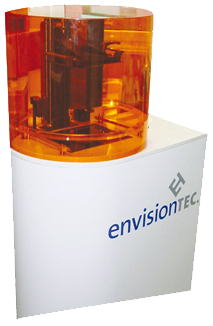 The Perfactory3® SXGA+ W/ERM Mini Multi Lens is a low cost, easy maintenance and user friendly three dimensional Rapid Prototype Manufacturing System. Using state of the art Digital Light Processing technology from Texas Instruments, the Perfactory3® System produces the finest detail in the shortest period of time. The Perfactory3® System creates three-dimensional models that range from the conceptual to the fully functional.

System Data Handling
The Perfactory® SXGA+ Mini Multi Lens machine can connect directly to a PC workstation or integrated into a network where pre-processed job files can be transferred. The System has a stand alone PC, which allows the system to work independently from the pre-processing workstation. It can be remotely monitored from any computer on the network using the communication software that is integrated into the Perfactory® Software Suite. Any STL data format can be easily converted into Voxel Matrices using the Perfactory® Software Suite and then imported into the Perfactory® System to be built.

System-Properties
* Build speed is constant through the build up to 10mm per hour at 50µm Z-Voxel thickness.
* ALL materials can be processed excluding clear/transparent resins.
* Integrated Enhanced Resolution Module (ERM) for the doubling of resolution.
* Economic material use, no vat, and a supply on demand material feed system.
* Very few moving parts and minimal consumable components.
* Minimized components make the system user serviceable.
* Models are suitable for direct manufacturing through Rapid Casting.
* A choice of materials from concept models to functional parts.
* Low acquisition costs.