Machines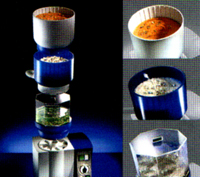 The CF machines are available in a jewelry version and an industrial version. The difference resides for example in the control unit. For the industrial version the Siemens S 7-200
is supplied as standard. Modular disc finishing machines (stand-alone versions) are available with 1-6 process containers. The chassis is made of anodized aluminium profile and is therefore especially resistant to corrosion and easily adaptable to accept add-on equipment. All operating control are accessible from the front and clearly laid out. Many years of experience has been channelled into these machines, making them very popular with customers.

Standard equipment
- Process containers with hot moulded PU lining
- Aluminium profile chassis – easy to add on optional equipment
- Speed control via frequency inverter
- PLC touch screen control unit / 2D control (for the jewelry industry) with digital display of processing time, speed, rinse cycle, dosing and other important process parameters and storage for up to 75 different processing programs.