Investment Powders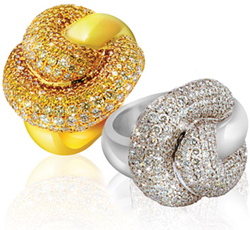 SRS manufacture a range of Investment Powders for Jewellery casting by the lost wax process.
SRS are experts in the use of gypsum plaster used at high temperatures for jewelery casting.
SRS are committed to research and development in this field-in fact 20% of the personnel are employed in the Technical Department.as well as having a fully equipped quality control laboratory accredited to ISO900, SRS has installed its own Hot Metal Laboratory being a complete casting facility to faithfully reproduce the customers own working conditions. This means that the company uses its products in exactly the same way as its customers.
SRS SILK Investment Powder

* SILK is the top of the range investment powder for18 K gold and fine filigree work

* SILK can be used for white gold

* SILK is made from the highest purity raw materials worldwide

* SILK is more refractory resisting thermal shock more and giving the finest surface finish

* SILK is very flexible in use and is forgiving to process variat

SRS CLASSIC Investment Powder

* CLASSIC is designed for 18 KT gold upwards and fine filigree castings

* CLASSIC is made from the highest grade raw materials

* CLASSIC is very refractory and produces smooth surface finish castings

* CLASSIC is easy to use with a creamy consistency during mixing and pouring

* CLASSIC is very easy to break out after casting

SRS GLOBAL Investment Powder

* GLOBAL is a middle range investment suitable for silver and up to 18 KT gold castings

* GLOBAL fits between CLASSIC and EUROVEST investment powders where quality castings are required at a more economical price

* GLOBAL is easy to use with a creamy consistency during mixing and pouring

* GLOBAL is very refractory investment suitable for highest quality casings

SRS EUROVEST Investment Powder

* EUROVEST is an economy Investment powder suitable for brass, silver and up to 14KT gold castings.

* EUROVEST is designed to be user friendly and able to perform in a wide set of parameters

* EUROVEST is easy to use, and includes all wetting and debubbling agents-no need to add before mixing.

* EUROVEST gives a smooth creamy consistency during mixing and pouring, and easy breakout.

SRS STONECAST Investment Powder

* STONECAST is a pre-blended investment powder for stone casting or wax setting with diamonds – no need to make any other additions

* STONECAST was developed using real diamonds to determine the optimum formulation

* STONECAST can also be used for synthetic stones

* STONECAST provides heat shield for diamonds up to mould temperature of 630c

* STONECAST gives a fluid slurry and flash setting to improve strength of moulds