Ferro Lab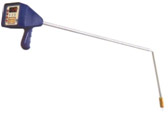 Tempstick 529
The All-Advantage Digital
Pyrometer with Memory
Tempstick 529
Sturdy, Accurate, Easy To Use, Portable & Dependable
The Tempstick 529 has evolved totally to suit a harsh and hostile industrial environment. It has proved to be the most dependable molten metal temperature measuring instrument when used with our BMD, Thermotips or Minitips for furnace, ladles and tundish in foundries and steel Plants.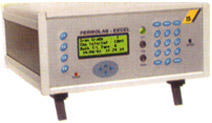 Ferrolab Excel
This is the versatile instrument for instantaneous determination of carbon equivalent, carbon and silicon in molten cast iron along with bath temperature measurement. It has special features like dual cup measurement, prediction of BHN, RM for unalloyed cast iron. Ferrolab Excel facilitates with record storage up to 45 nos. The instrument has connectivity of centronix printer for data printing, LDU for magnified visibility, AVP for audio indication. It also has computer connectivity through RS 232 or 485 for cooling curve plotting and complete data storage.